Home And Desiccant Dehumidifier
Home Dehumidifier
Desiccant Dehumidifier
MOBILE
STATIONARY INDUSTRIAL
THE MOBILE TTR DESICCANT DEHUMIDIFIERS
An excessive humidity level can cause damage: in production and storage facilities, entire stocks can become useless due to too much moisture. Subsequent to water damages, there is a risk of mould growth and corrosion. That's why you should be flexible and have a dehumidifier at hand which can be set up and is ready for use in next to no time. For these purposes, the mobile desiccant dehumidifiers from Trotec are true all-rounders, combating moisture at the push of a button – exactly where you need it.
Whether in case of a water damage in closed rooms or for pinpoint humidity regulation – the mobile desiccant dehumidifiers from Trotec are available in different variants and with different performance levels. Thus you always have the suitable device for your specific application requirements. Depending on the version, the dehumidifiers can handle quantities from a manageable 80 m³ per hour up to powerful 200 m³ per hour. Heat recovery included!.
With the mobile desiccant dehumidifiers of the TTR series we offer you particularly compact and lightweight models that simultaneously impress with their high performance. Additionally, models marked with "D" are equipped with a Duoventic air volume regulation as standard. This means that both fans of the separate air circuits can be controlled independently via an infinitely variable regulation.
To fulfil specific hygienic standards, we have designed the mobile stainless steel desiccant dehumidifiers of the TTR series. They equally impress with their particularly high dehumidification performance – even at extremely low temperatures.
All these devices are particularly maintenance-friendly and space-saving since stackable – and of course they are of the best quality "made in Germany". We have the ideal desiccant dehumidifier for your mobile application.
STATIONARY INDUSTRIAL DESICCANT DEHUMIDIFIERS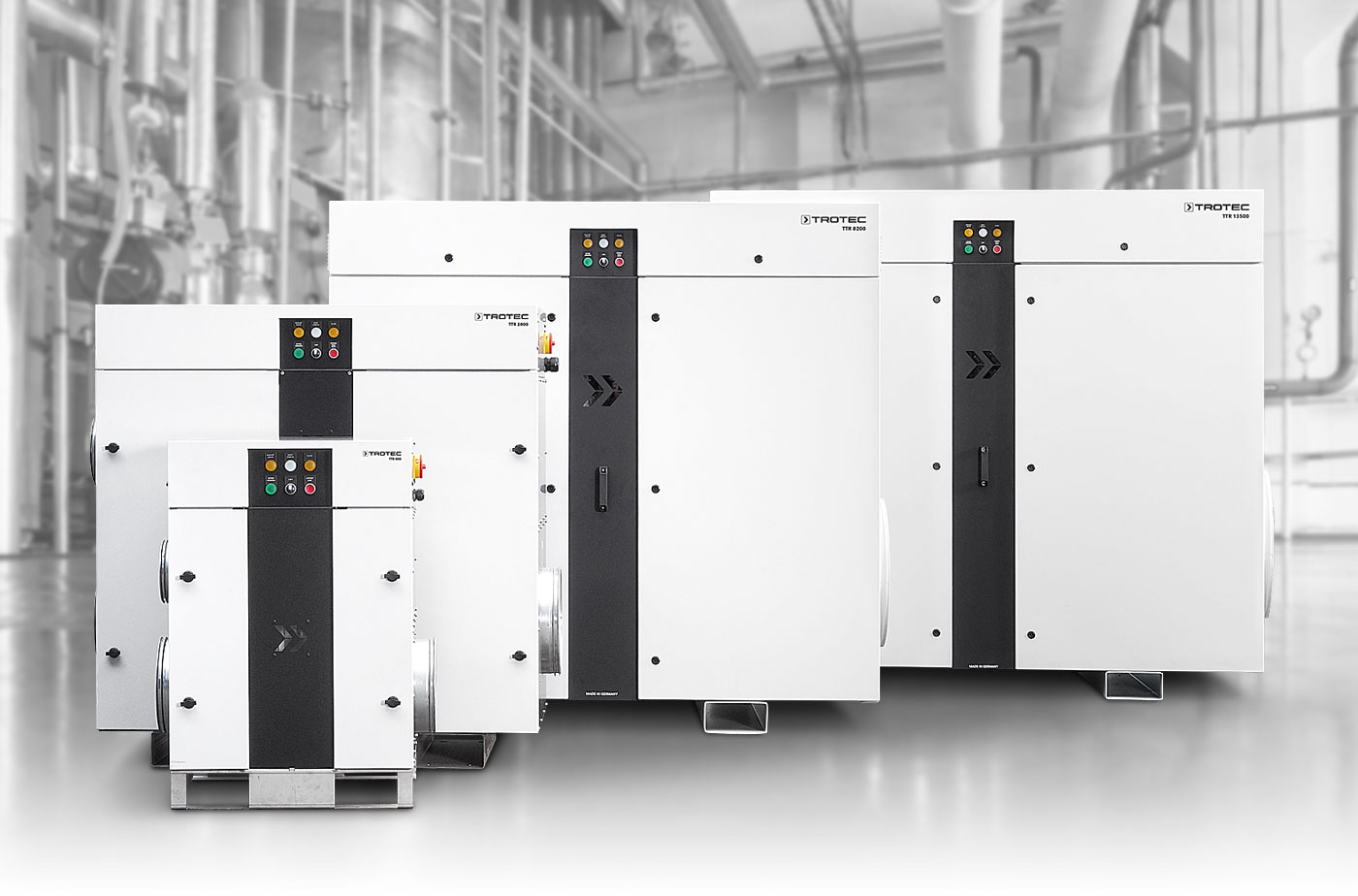 Humidity Control At Its Best
With our robust high-performance dehumidifiers you constantly benefit from a perfect solution with regard to drying applications. The TTR units ensure efficient and permanent dehumidification with a high capacity, even at low dew points.
The application possibilities for these industrial desiccant dehumidifiers are as versatile as their comprehensive standard equipment and the numerous additional equipment options facilitate a virtually custom-tailored adaptation of these devices to meet any requirement.
High Performance
All industrial dehumidifiers of the TTR series are developed and manufactured in Germany according to the highest quality standards. They exclusively consist of efficient branded components of the latest generation of technology supplied by leading component manufacturers.
The TTR platform strategy consisting of four construction modules with altogether eleven devices of different performance classes ensures a maximum of quality and cost-effectiveness.
Thanks to the internal heat recycling process as well as the high level of resilience and performance of their special sorption rotors, the desiccant dehumidifiers of the TTR series are among the most economical dehumidifiers of their kind!